Heimatabend 2004 – The Ed Sullivan Show – A really big SCHUH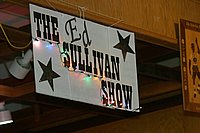 Once again we outdid
ourselves with this year's Heimatabend. Under the motto "The
Ed Sullivan Show – A really big SCHUH" we put together
a variety show with performances that pleased old and young. Drawing
our inspiration from one of the longest running US variety and family
shows we put together music act and funny skits.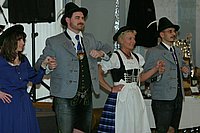 The
evening started the presentation of our new Tracht. In order to
become a member of the North American Gauverband
(an umbrella organization of all the Schuhplattler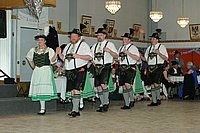 groups
in North America) we have to outfit our group with clothing that
resemble original Tracht of a region in Bavaria or Tyrol. Part of
our activities will be to present and preserve the Tracht.
After the Tracht presentation our guests the Schuhplattler
group from Winnipeg which visited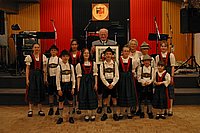 us
after we had been attending their 30 year celebration back last
Oktober performed a couple of Ehrentänze.
Then our youth group, the Alpenspatzen, performed
a dance and we thanked Mr. Klotsche for his generous donation to
the Alpenspatzen. After some Schuhplattler dances we got the variety
show started.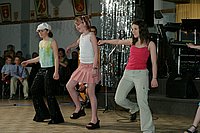 With Marvin we had a wonderful "Ed Sullivan" as
host. The first act were the spice girls from girls of our youth
group. Next guest was Heino. It was a last minute addition as Elvis
would not appear (though rumours had it that he had be seen in the
building). Then Nancy "SpecK" Sinatra walked with her boots all
over Bernd.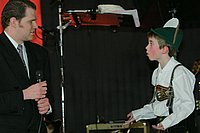 Of
course there Topo Gigio was not missing from our show. There had
been even an appearance of Siegried & Roy but the new pet Bärlie
the bear was not as harmless as expected. The first half of our
show ended with our girls performing the Dirndlradl a dance we learned
from the Calgary group during the 2.
Western Canadian Schuhplattler Dance & Workshop.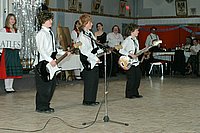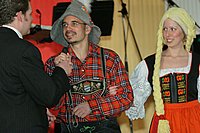 The second half of our show started with the boys from the Alpenspatzen
posing as the Beatles. Afterwards the 30 second woodcarver produces
some amazing staff in his three work rounds. The next act was a
stellar performance by ABBA.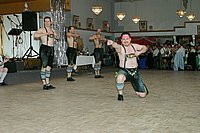 Two
encore performances concluded the evening. First our girls put on
the Lederhosen and danced the Chiemgauer. Then the men did a repeat
of the much requested "Lord of the Plattler". Our Heimatabend 2004
was once again a big success. So be sure to not miss the next one.
We have already grand plans…